Problem statement
BitcoinZ is great coin, but many people don't know this coin well, or they have not even heard about it. The problem is that other coins are well advertised and promoted on many different crypto sites.
Mission Statement or Vision
How our coin will get more exposure and more people interested in our Community.
After a certain point, advertisement won't be needed so much. Because, as our Community grows, the coin will be <<automatically>> advertised. However, till then we should consider at least some minimum advertisement.
Objectives to be achieved
We should put VaultZ+Hydra to »work« and start using some funds for advertisement.
Preferred approach
• Best advertisements are in my opinion:
• Facebook advertisement
• AdWords (Google advertisement)
• Posts on websites, or mails to subscribers on some crypto sites.
• Social media sharing (but still I think there are too many bots so this way we cannot achieve a decent amount of really organic views)
• Any other advertisements (Stickers, calendars, flyers, actual btcz coins……)
Benefits statement
With advertisement, we will gain bigger community, so our daily volume will increase, and also price of BTCZ will increase.
Performance and progress measures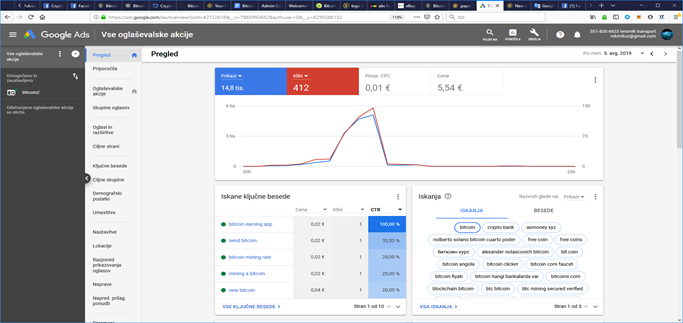 Currently, I'm using AdWords to advertise our website (btcz.rocks) for 5€ a day, for that we get approximately 15.000 impressions (views of our AD) and around 400 views for our website.
When ads were lunched, traffic on site also increased:



Everything depends on how ad is set up. I advertised a lot my games for smartphones, so first you need to get optimal words and locations and everything. You see when I started I used 20 € a day and it was way worse: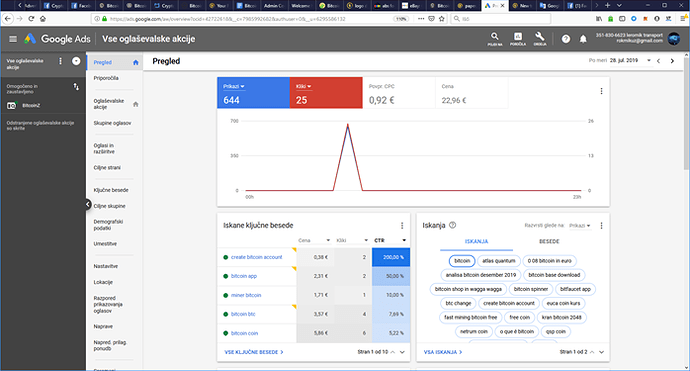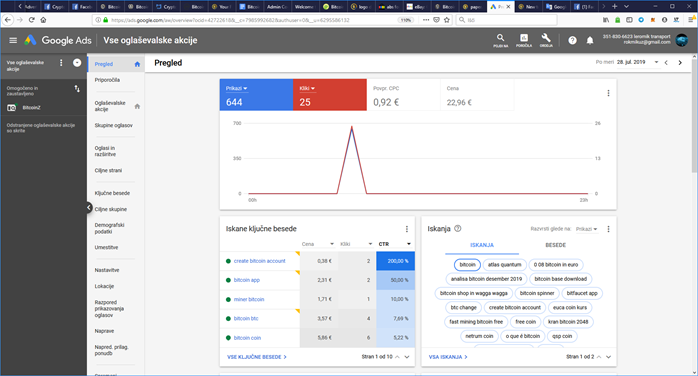 Only 650 impressions and 25 clicks.
Risks and ways to address them
In the beginning there is risk that ad gets refused by Google, but I got right words around and images so that now it is approved.
Facebook's advertisement is harder, they don't want competition for their Libra thing (is that a crypto coin?? :] )
I also got good contact from CoinCodex.com where I tested and paid 150$ for mail recap advertisement.
Usually people subscribed to mailing lists of crypto sites are more likely to check Ads regarding Coins. In my opinion 
A basic plan of work (timeline and key milestones)
I can run Ads on Google AdWords for a month for example or couple of months. Since Platform needs Bank account and money on it. Or if someone else would like to take care of it no problem. I can give all data to someone else so that campaign can start easily.
Cost estimates and funding sources
Cost depends on how much we would invest, like I said now it is on 5€ a day, I will run ads for couple of more days. Then I will stop it (I can't give all my salary to advertisement sorry)
But if we would decide to go for it I would risk 5€ a day and pay (or more, depends on how much we decide to invest with the second section of the Poll)… and this way I would get paid by VaultZ for the funds that I have spent for the promo.
If you voted yes, please specify how much you think we should invest in advertise:
5
10
15
20
more (write in comment how much)