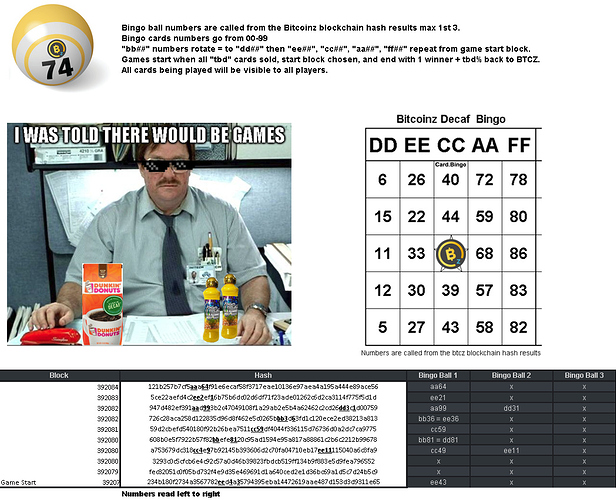 Currently there are limited online crypto Bingo options and none are able to play with BTCZ.
Mission Statement or Vision
Create an fair and open Bingo environment for Bitcoinz.
Bingo ball numbers are called from the Bitcoinz blockchain hash results with double letters then first 2 numbers after. max 1st 3 results. See pic for example.
Bingo cards numbers go from 00-99
"bb##" numbers rotate = to "dd##" then "ee##", "cc##", "aa##", "ff##" repeat from game start block.
Games start when all "tbd" cards sold, start block chosen, and end with 1 winner + tbd% back to BTCZ.
All cards being played will be visible to all players to watch winner.
Objectives to be achieved
Build a fair and open Bingo Environment.
Attract users to play with BTCZ
Have a easy way for people to buy/trade in and play with BTCZ.
Users can only receive BTCZ.
Generates profit back through winnings fees taken.
Preferred approach
Hopefully the community could build this project together.
Benefits statement
We get to play Bingo with BTCZ !
Will attract others to get and use BTCZ !
Has possibility of generating revenue !
Risks and ways to address them
?