Informations about the Micro Loan project which enreached a won state on proposal:
Problem statement (click to expand)

I truly believe that as a community and as an internet collective we can do more, help others and benefit as well. We may not have an Etherum Foundation in our back pocket, nonetheless we can still do some good.

I would like to introduce you to Kiva .
Kiva is an international nonprofit, with a mission to connect people through lending to alleviate poverty. They celebrate and support people looking to create a better future for themselves, their families and their communities.
By lending as little as $25 on Kiva, anyone can help a borrower start or grow a business, go to school, access clean energy or realize their potential. For some, it's a matter of survival, for others it's the fuel for a life-long ambition.

Kiva connects lenders (like you and I, or BTCz community) to lend as little as $25 to people in the poorest countries.

It is not a donation, it is a loan. Loans get repaid.

You can loan money to farmers to buy more livestock, or help people start businesses. Kiva believes lending alongside thousands of others is one of the most powerful and sustainable ways to create economic and social good.
Mission Statement or Vision (click to expand)

I would like us, as a community, gather some funds and start lending via Kiva. Those funds will get repaid and we can lend them out again and again to help many people in underdeveloped countries thrive without handouts.
Objectives to be achieved (click to expand)

Help as many people as possible to thrive
Spread BTCz awareness by publicizing the above (press release etc)
Build enough steady momentum with Kiva (via regular steady lending) to be able to integrate BTCz into the site and their lending model further driving our adoption.
Preferred approach (click to expand)

I have reached out to Kiva founders already however i think we should start collecting some donations to start the lending process as soon as possible.
Why not do some good while we wait!
Benefits statement (click to expand)

We will be helping people realize their dreams and fulfill their potential - the country of birth should never hold you back.
We will spread the positive message about BTCz community - we are not all Lambos and Moons!
Performance and progress measures (click to expand)

I am happy to oversee the Kiva account and report to the community via the forum on regular basis.
Risks and ways to address them (click to expand)

I foresee two risks:

Kiva may not initially want to accept our loans in crypto so i will have to convert to USD until a long term solution can be put in place (i am an accountant by trade so I will provide you with all the FX conversion reports)
BTCz price fluctuation may pose a risk
A basic plan of work, timeline and key milestones (click to expand)

As mentioned above, i already reached out to the Founders, nonetheless i would like to start gathering donations asap, give it a good 2 weeks collection run and then start lending.
Liaise with Marketing team to get some press releases going and create general buzz in the community.
Cost estimates and funding sources (click to expand)

I will donate BTCz to fund the first lending round and i hope that the community will follow.
Opposing arguments and responses (click to expand)

You may have some questions or concerns and while i can't think of any right now, please post below, find me on Discord/Slack and just ask point blank.
Micro Loan project mission of Kiva
Loan able subjects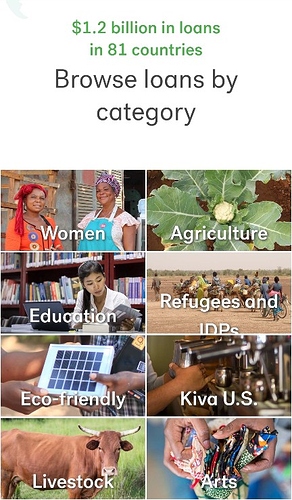 Suggestions are very welcome!