Project: STEX Halving Trading Contest
Objective:
a) Increase BTCZ Trade Volume
b) Increase Liquidity of BTCZ
c) Increase Price of BTCZ
d) Increase Awareness of BTCZ and Halving
e) Get a ton of Marketing Exposure
Proposal: STEX Halving Trading Contest on September 10th thru 20th 2021. Prizes paid in BTCZ in the amounts following: 1st - $500, 2nd - $365, 3rd - $250, 4th - $150, 5th - $120, 6th - $100, 7th - $80, 8th - $75, 9th - $50, 10th - $40, 11th-20th - $30, Plus a BONUS of $500 to the person guessing the Closing Price of BTCZ on October 10, 2021.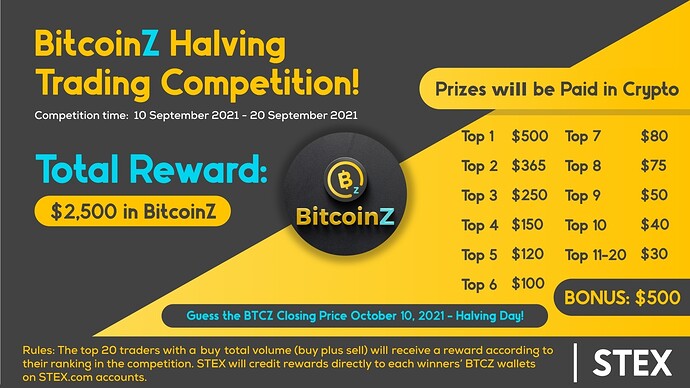 Community Support: We are asking for the Community to help fund this through direct DONATIONS of BTCZ crypto to the Following Address: BTCZ: t1edZtNPfNvnwRA6kq4AmLU9xyWpp1DLd54
ALL Donations will go 100% to fund the Trading Contest Payouts! If we are able to raise more than $2,500 for the STEX contest, the remaining funds will be used to run a 2nd Contest simultaneously at CREX Exchange!
Marketing Exposure: STEX will run a marketing campaign on all their social media channels and several partner sites, before and during the trading contest to gain exposure to mass markets. (This is a HUGE Marketing Value 300,000+ Registered Users, almost 30,000 followers on Twitter, 8,000 Telegram, 1,000 Medium,) The BTCZ Community will run many marketing social media campaigns leading up to the contest and during, the BTCZ community will also be encouraged to take part in the contest as well as to share all social media posts and announcements.
Case Study/Expected Results: STEX ran a similar contest for the LONG coin February 12th – 22nd 2021 and the results were AMAZING!
LONG Coin Average Daily Volume Increased 656%
LONG Coin Average Price of LONG Coin Increased 200-250%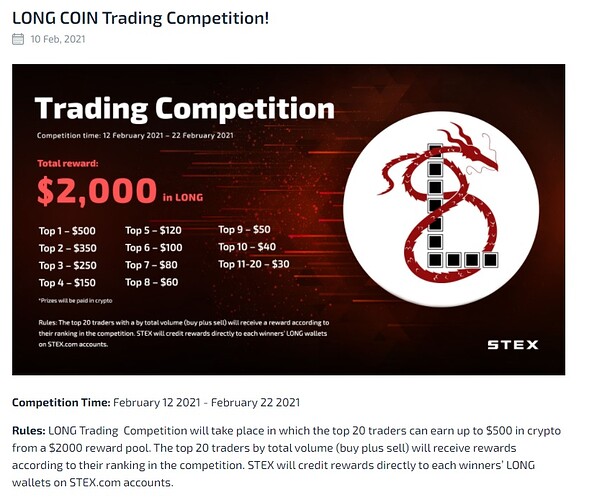 BTCZ Expected Results: We expect to have better results than the LONG Coin since we are a long-time established project going on 4 years old. The LONG coin is new we expect our results to be better. With this project we will gain lots of FREE marketing from STEX and the BTCZ Community bringing great attention to our great project. We also expect this contest to increase the Trade Volume of BTCZ to over the magical number of $50,000 daily trade volume which is so greatly important to get us listed back on sites such as Coin Market Cap gainers and Losers section and get back onto the search results of What-To-Mine. Price and Volume increases will have a 10x return on marketing and exposure!
Let's do this! Can we get our Volume to increase 1,000%? Can we get our BTCZ Price to Increase 300%? Maybe More?
Though there is no Guarantee of these results, we believe the LONG Coin case study gives us a great insight to the possible expectations. We also believe the amount of marketing exposure will be much greater than the $2,500 investment and would cost much more to pay for exposure of this magnitude.
**Please Donate Today: BTCZ: t1edZtNPfNvnwRA6kq4AmLU9xyWpp1DLd54
How do you wanna fund Trading Contest?
From VaultZ
Community donations
None