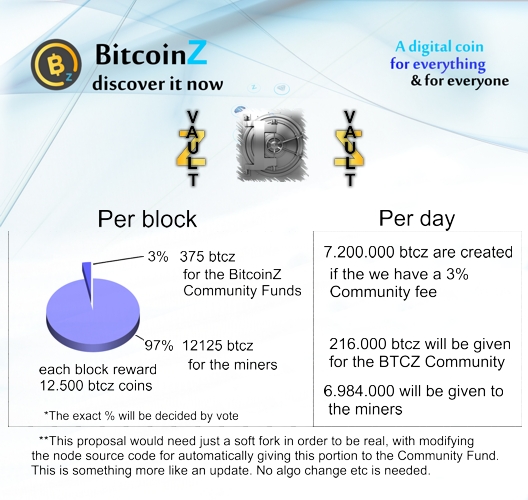 Problem statement
After many hours of discussion in our BTCZ Discord channel during the last days, many of the most active members of our Community have expressed some interesting thoughts about the funding system of our BITCOINZ Project. Something which of course plays a fundamental role for its future success overall.
As a Community driven cryptocurrency, we have a Community Fund in order to cover any expenses for our Project's needs.
Until now , this Fund was supported by the Community donations either when someone choose to send funds directly to our specified address or by choosing to mine, using a pool which is donating a percentage to the Community.
There were some extra events like hash rate lotteries in some pools in order to raise some extra funds as well.
Again , as we can all see , the basic idea is the same : our Community Fund is raising its funds by the donations of those who really care for this Project , who in this early stage are not so many.
When the crypto market was skyrocketing, with our coin gaining more and more value, this donation system seemed as a working solution. However, many times it would be much better if we had some extra economical power.
Now ,this need for changing our funding system to something most effective, is more obvious than ever : With a bear crypto market and with our coin's value reduced to very low levels , the Community Funds instead of rising by the "BTCZ friendly" pool's donations , they are almost steady or even shrinking in value for many weeks!
There are thousands of miners-dumpers of our coin who use pools which don't donate anything to our Project (like suprnova), interested in just selling it for immediate cash , enjoying its ASIC resistance. Those miners have never donated anything, because they either don't have any true interest in our Project or at least because they have not been motivated yet. They simply found it profitable for now , without even knowing how special the btcz idea is. Those in the first group , will simply proceed to the next profitable minable coin if we cease to exist , while those who would participate as active members if they knew more about us , will never learn about us if we cease to exist. This is a lose/lose situation if we continue with this self-destructive funding system, because in reality our Community Funds are very low , with a very bad future outlook as well.
Market has been extremely cruel with our coin.
The Market loves seeing capitalism :
Extra funds , extra marketing , extra exchanges, extra development.
The market is punishing btcz because she has priced in, that with the situation as it is , it will be very hard (for the market's view completely impossible) for btcz to succeed , especially with the cryptos in bear mode.
By changing this approach , starting to use some parts of the system and playing with the market's rules, maybe we could be able to change the game.
So , we have to be more organized and find a golden recipe in order to get some funds by the dumpers who never donate for anything.
This way we could make the things run faster and stronger for our beloved BTCZ Project.
Mission Statement or Vision
By adding a Community Fee of a very small percentage (for which exactly we will afterwards decide - let's say hypothetically about 3%) which will be automatically donated in our Community Vault , we would make our funding system balanced , stronger and much fairer , because after this everyone will contribute equally.
Please take in mind that this is totally compatible with our coin's white paper and idea as it is a completely fair and democratized funding system:
1)with a Community fee , the financial burdain won't be assymetrically distributed anymore , with the few same persons covering the expenses for the whole Community
This is fair
2)The Community Funds raised by this fee , will be used for every case after the democratic procedure we were always following, by voting the proposals for every fund usage.
This is democratic
I must add here , that this is NOT a DEV TAX , this is a Community fee.
The difference is more than obvious :
This is something for which WE , ALL together , as BTCZ COMMUNITY decide as a solution for funding OUR Community Vault which will be used again for OUR Community's needs after again OUR vote for every case.
This is NOT a fund for making rich a specific Developer or a CEO. (A DEV TAX would have been put by the DEVS themselves and it would automatically pay a certain developer's personal wallet for his work).
We all work for FREE for the BTCZ project because we care for it and we love it.
However there are endless cases for which a strong Community Fund is needed :
-For entering new exchanges as almost no exchange out there is listing you for free
Example if we could afford paying for EXMO instead of CCEX , many users wouldn't have suffered by CCEX'S unprofessionalism and our coin would't have been hurt by this parody-exchange.
-For marketing / Promoting BTCZ
Examples : Paying for publishing our chosen articles to certain sites with cryptocurrency news (like Cryptorex had achieved with his last proposal , we had some serious views then but we had no more funds to keep the good pace with the bear market after). Funding Community giveaways (I have achieved 10k + views in twitter msgs by small personal giveaways ) Buying youtube/google ads promos leading us higher in results , promoting our btcz info clips etc
-For external cooperations with certain freelancers / developers
Example we could pay for a relift to a Community's site or for developing a specific alternative payment gateway or a completely new one (like the Shopify bounty which now is very low in value and hasn't brought any result!)
-For other scenarios like a partnership or funding the development or redesign of a specific app (example paying for the needed changes in our mobile wallet in order to be accepted in the iOS downloads or paying for another Coinomi-like cooperation).
And for so many others, this list could be really long.
For EVERY case of using the Community Funds, a proposal will be made by the member and the Community will vote for the approval as now. The only thing that will change is the Funding system of our Community Vault which will be much more reliable and effective.
Meanwhile we should not forget that a positive change like this, could probably open a new promising circle for our Project bringing more energy to those who voluntarily work.
Because for example it is much more inspiring to see your hard work in your article being promoted with thousands of views , or your artwork being chosen by the Community and afterwards being shared by hundreds of social media accounts , or your application (like renuzit's revolutionary btcz.me) being used by more and more. This is moving you to work even harder guys!
This afterwards could make more people join our Community , which means even more hard working friends here.
Not to mention that with a value gain for our coin, we will see a higher Community income as well , which means better exchanges, even better promotions , even more people here and so on…
All those need some funds which other scam coins' dev teams have given (in order to just flood the social media and inflate their price) as a very small part of their massive ICO raised / premined funds , leaving afterwards their speculating meaningless coins abandoned !
In BTCZ COMMUNITY, we have a superb coin with a ready to work ecosystem , a marvelous idea & project by good devs but we have no funds for making it known to the world!
Let's change this… Now !
Thank you all and forgive me for the long post.
VandarGR
PS. If for any reason , this funding mechanism doesn't work as we predicted (something for which I personally don't have any doubt) , or if we see in the distant future that we no more have the need for a Community fee , our Community is always free to vote again for returning to the previous state with No Community fee.